Nox/Necro/Mage Build questions
<!–– 1941 ––>

Giperborey
<!–– closing ID=FDP or NOFDP 2001 ––>
Posts: 17
New player here. Could you please help me with my build?
My current build: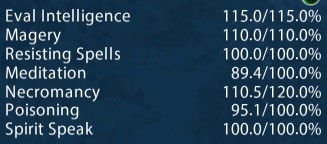 FC: 2 / FCR: 6 / LRC: 100 / LMC: 40 / MR: 30 / SDI: 105 / RES: Max
Looks like I suck at any aspect of PvM cause I don't understand how to play Mages.
What I usually do for fighting:
Use slayer books
Corpse Skin + Evil Omen + Poison Filed -> Lethal Poison (seems not helpful at all)
Corpse Skin + Evil Omen + Flamestrike / Chain Lighting (Sometimes deal good damage, but slow)
Energy Vortex / Summon Daemon / Animate Dead -> For tanking (they don't lasts long enough)
What I usually do for self-buff:
Bless -> Always

Magic Reflection -> When fighting mage monsters
Never use:
Protection -> Don't understand when it's helpful since it provides huge debuf
Toughest monsters I can kill:
Miasma -> Daemon + Corpse Skin + Evil Omen + Flamestrike
Grobu -> Vortex+ Corpse Skin + Evil Omen + Poison Field + Flamestrike
White Wyrm in Ice Dungeon -> Magic Reflection + Corpse Skin + Evil Omen + Flamestrike + Run around
What do I do wrong? What else spells should I use? What monsters should I try to fight and how?
I've been in the:
Shame -> monster looks buffed, I couldn't be able to fast kill even elementals (Air/Flame)
Doom -> more or less I was able to fight local monsters but don't understand what to do here, so was just circling around Ferryman and killing everything
Labyrinth -> I can't deal with Rend or Pyre or bunch of Minotaurs
Wrong -> not much luck here as well
Maybe mage is not supposed to adventuring solo? Maybe I don't need poison for PvM, but in the mentioned post above someone stated that Nox Mage could doing crazy in Sleeping Dungeon (but how?). Maybe I should drop Necro?
Are there any not very hard dungeons for explore? Is it possible to kill champs/bosses with this template? Maybe there are some good PvM learning videos on how to play mages?

I'm not interested in playing warriors, I love being mage.

Thanks in advance.

Tagged: