Mannequin
<!–– 1941 ––>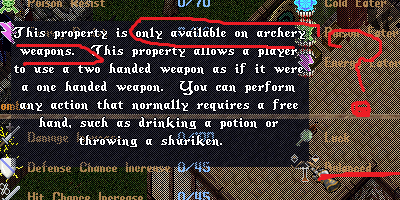 ****PARRYING also counts as negating a focus template
I took a look at the spell focusing sash description on the mannequin in game(just out of interest) and I recognised the description - because I wrote it (with Mariah). It was taken from the wiki:
So what i can't understand is why the description for spell damage increase, balanced, and info on the mana/stamina increase caps (no cap) were not also taken from the same accurate page.

Also, i think this has already been reported, but when you add refinements to a piece of armor, the mannequin no longer recognises that resist value at all, and gives a bad value.

Its actually not a bad effort at giving info to players about properties. But you need to give correct info.

I tell you the truth, tis better to do 10 damage on the right target than 100 damage on the wrong target.
Breaking in the young since 2002