2 vendor 'scams'
<!–– 1941 ––>

"I was contacted to investigate an alleged vendor scam after receiving complaints from some players, and have found 2 instances where the poor user interface has facilitated the apparent scam.

While in both cases the 'scam' (or genuine mistake from the vendor) can be avoided by users taking more care, here is how the User Interface requires improvement.

Trick 1, vendor puts a load of items for sale for example 10'000'000, purchaser is buying many items at said price. And is presented with a confirmation gump to confirm the price.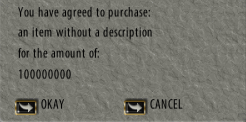 issue: vendor amount on confirmation dialogue is missing comma separation, this example actually displays 100'000'000 however is difficult to tell without the comma separation.
expected result: for figure to display comma separations.
Trick 2: this affects only classic client users or those using the classic style backpack on EC.
Vendor places an item EG a clothing bless deed on a vendor for 825k, purchaser does a vendor search and uses the map to vendor to 'open container containing' then is presented with a vendor pack seemingly containing one and only one deed, purchaser clicks on deed to buy (may not think to check the deed as believed they were presented with only one deed)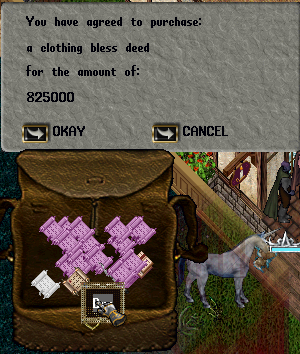 The purchaser checks thoroughly the amount after manually counting the 0s. However has not purchased a clothing bless deed. The vendor has stacked directly ontop of the deed a different (less valuable) deed for the same amount of gold. The description given in the confirmation gump is the manual description the vendor has attributed to this item, what is for sale in this example is actually a mannequin deed.
Expected result: for confirmation gump to display item name, not player given description"
Posts on this account have been pre filtered from personal comment or opinion in an effort to suppress conservative views in order to protect the reader.