FEED US KYRONIX!
<!–– 1941 ––>

Calavera
<!–– closing ID=FDP or NOFDP 2001 ––>
Posts: 24
Over on Stratics a few days back a returning player started a conversation about the Taming mastery 'As One'. His post piqued my interest, he said the mana upkeep was far too high to use this ability, but it could be fun and open a lot of doors if that was adjusted.
Interested, I ran out and tamed 5 wolf spiders. I then loaded my suit with every high end piece I could scrape together for Mana Regeneration.
So I have

head
arms
gloves
legs
chest
gorget
shield
with MR 4 each, for a total of MR 28
then I had
spellbook MR 3
robe MR 2
talisman MR 1
ring MR 4
bracelet MR 4
tangle MR 2
for a suit total of a whopping 44 MR. The suit also had 40 LMC.
My real skill on the tamer is 120 tame, 120 lore, 100 vet. Taming Mastery was level 3.
This is as good as I think can be reasonably expected for a player to put together to use a mastery.
After the spiders bonded, I parted up with a 120 music / 120 provo / 120 peace / 120 disco bard and went to the Trammel Sphinx.
Oh mama! What a thing of beauty as my brood chewed through the stodgy ol' Sphinx. BUT, running both Peace Masteries and with all the MR and LMC noted above, I could still only get through about 3 Sphinxes (who have ultrafast respawn rates) without have to turn the Mastery off to regain mana.
'As One' could be SO MUCH FUN if the mana upkeep was more sustainable. Please, PLEASE FEED US KYRONIX!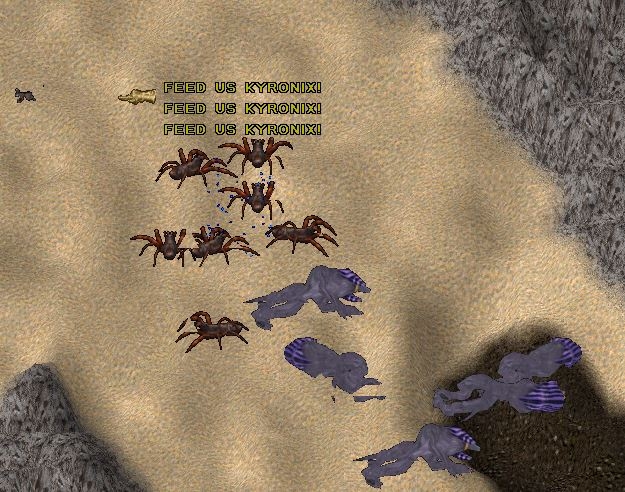 (Also, the new polymorph tokens and khaldun costumes make for a great RP spider brood)

REDUCE THE 'AS ONE' MANA UPKEEP AND WE SPIDERS (and hellhounds, and wolves, and others) WILL WORSHIP YOU WITH SLAUGHTER!