Multi-strike system
<!–– 1941 ––>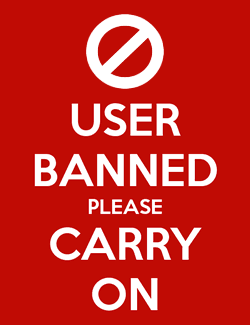 JollyJade
<!–– closing ID=FDP or NOFDP 2001 ––>
Posts: 578
I have some questions about the multi-strike system mentioned in the ToS:
1) Is there a way to check how many strikes you have at a certain day?
2) Will strikes expire after a certain amount of time? Or will I have to carry these strikes for the next 10 years+?
3)
@Mariah
is not really sticking to what is laid out in the ToS:
A multi-strike system is in effect for any user failing to fully comply with the rules:
First Offense: A warning is issued.
Second Offense: Suspended from the forum for 24 hours.
Third Offense: Suspended from the forum for 1 week.
Fourth Offense: Permanent ban.
In severe cases the offender may be banned before making 4 offenses.
When she banned me, it was straight a 30 day ban, which is not even mentioned in the ToS. I never reiceived a 24 hours nor a 1 week ban.
So the third question: Is there any other ToS I am missing?
I am now very concerned that
@Mariah
might just make up more rules and ban me over any minor incovinience for her. Thats why I would like to know how many strikes I am away from a perma-ban, as it does not make me feel confortable being in fear of getting banned over
@Mariah
deeming any of my posts a troll and giving it a count.
Disclaimer: This post is not a troll
@Mariah
. Serious answer appreciated!
Just a troll who got told by lesser trolls (moderator classification)
This discussion has been closed.