Let's play UO, Classic Client Options with Mervyn
<!–– 1941 ––>

Mervyn
<!–– closing ID=FDP or NOFDP 2001 ––>
Posts: 2,191
Upon a fresh install UO, I was pleasantly surprised at how little options I recommend changing from the default settings.
But there are a few: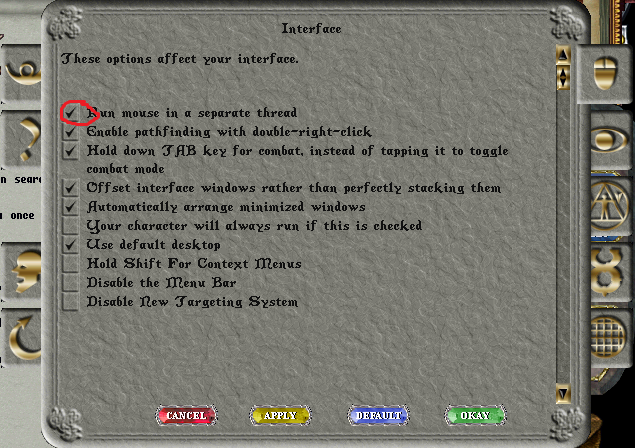 Uncheck Run mouse in separate thread, this will stop the uo cursor from flashing when you move it on win10. (requires full client restart to take effect)
(Some people might want to also uncheck pathfinding with double-right-click as it's very easy to double-click by accident and get yourself into all sorts of trouble.)
Check Use circle of transparency so you can see behind walls
Reduce the skills inform to 1, this will give you more control over your skills and feel like you're gaining faster.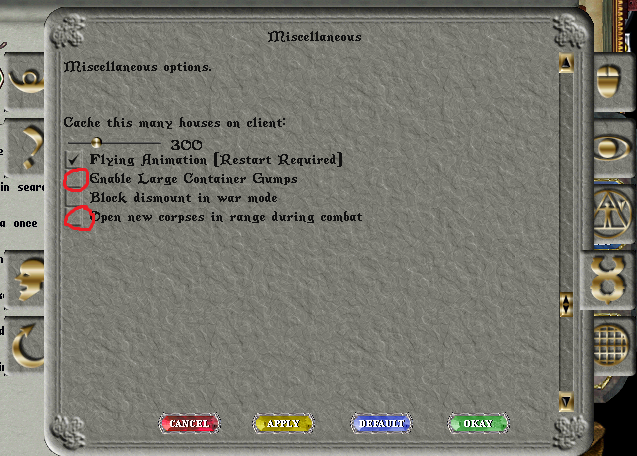 These Large containers are lovely, and opening the corpses are a real time and effort saver.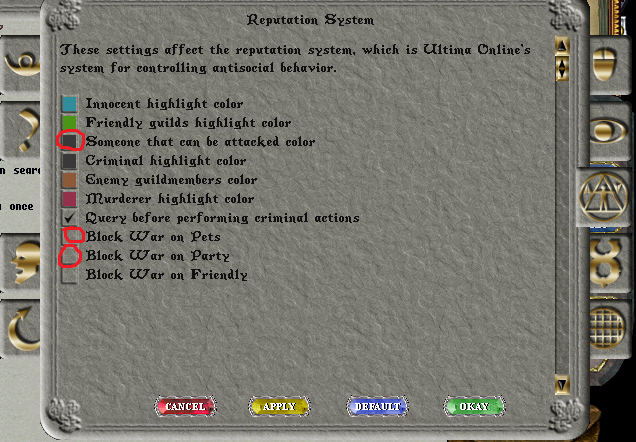 You'll probably want to know if someone is grey to just you, or if they're grey to everyone, before you shout at your friends for not helping.
I can't envisage many situations where you'll need to attack your party or pets (this option will only block non targeted attack in war mode)
(Blocking war on Friendly is not recommended as at time of publish this currently blocks war on both friendly and innocent and you'll find yourself unable to attack an innocent, with or without querying criminal actions)
I tell you the truth, tis better to do 10 damage on the right target than 100 damage on the wrong target.
Breaking in the young since 2002
Tagged: