item use not clearing cursor in EC enabling invincibility
<!–– 1941 ––>



drag a potion or trapped box to a hotbar slot
right click the hotbar slot, and select target->self (instead of cursor).
assign a macro key to the hotbar slot
cast spell EG greater heal (cursor version, e.g. from spellbook)
wait for cursor to popup
hit macro assigned at step 3.
target yourself with greater heal cursor.
enabling invincibility vs other players
expected result: for use of item, EG cure potion or trapped box to cancel target or you cannot kill anoyone if they just keep casting heal spell and can drink cure without losing held spell target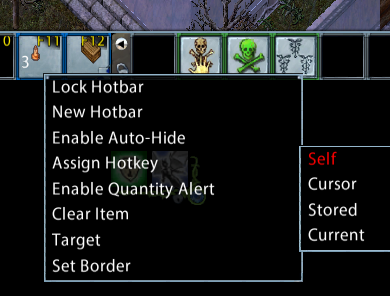 Posts on this account have been pre filtered from personal comment or opinion in an effort to suppress conservative views in order to protect the reader.