Damage Modifiers beyond the first are being calculated proportionally rather than additively.
<!–– 1941 ––>

Arroth_Thaiel
<!–– closing ID=FDP or NOFDP 2001 ––>
Posts: 959
I'm reporting this as a bug. It might be intended, but the effect is fairly significant, so probably a bug.
This has been tested with many modifiers and stat/skill combinations, both on Test Center and on Pacific. It works it all instances.
I'm just me, I did the testing, I still could have made a mistake and missed something about how the calculations are made...so, I could just be wrong.
--
From what we as players understand about how modifier damage works, using Enemy of One (EoO) would add the EoO % directly to the base modifier:

Modifier from a Super Slayer (SS) would be added similarly:
If we were to use both EoO and SS, we expect these modifiers to be added to the base modifier at the percentages indicated in the tooltip or the item property description:

However, if you test out the damage ranges you actually see on creatures, using EoO and a SS are not producing a 2.82 modifier, they are putting you at the modifier cap for the creature, just as if you'd used a 200% targeted slayer.
If you are using just EoO or SS, the damage is correct and as we as players understand it. However, if you use both, the damage is much higher than would be expected. In effect you are achieving the modifier cap with far less modifier than expected.
Going through the math, modifiers other than the base and first modifier, are being calculated
proportionally
to the total of the base + first modifier (regardless of the order of calculation).
In the case of EoO and SS, the math would look like this:

If you use Stone Form and a Super Slayer, you are not yet at the modifier cap, and the resulting damage seen in game can only be calculated if the modifiers are proportional:

This effect can be used to reach modifier cap relatively easily, bypassing many of the gear requirements in game.
A Chivalry (84) EoO (50%) cast combined with a Slayer Talisman will put you at the modifier cap of 300:

A Chivalry (120) EoO (82%) cast combined with Mace Mastery III Stagger (Warrior's Gifts automatically applied) will put you at the modifier cap for any creature in the game: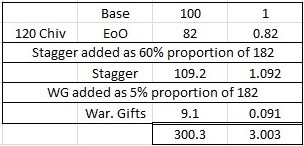 --
I have tried various combos of modifiers, skills, and stats, on both TC and Pac. This effect is in place regardless of skill in Chivalry, Bushido, Necromancy, or Ninjitsu, regardless of Anatomy or Tactics skill, and anywhere between 99 and 150 Str.
I have tested the following modifiers, and all are proportional if more than one modifier is used:
- Momentum Strike
- Enemy of One
- Armor Pierce
- Honor Self
- Stagger
- Thrust
- Super Slayer Weapon
- Slayer Talisman
- Stone Form
- Warrior's Gifts
I believe all modifiers are calculated proportionally if more than one modifier is used.
-Arroth