Consecrate Weapon & Enemy of One not Working Properly in PvP
<!–– 1941 ––>

When I play UO, I really enjoy theory craft and coming up with templates. I do a lot of the math in advance to understand damage potential.

My goal was to see how hard I could hit. What the actual damage was came out far below what I had on paper. I decided to dig in to figure out where my math came out wrong. For the purposes of this test I used a lower end damage weapon, not trying to max everything out.

My math normally is not wrong. When I use the same logic below to determine evil omen impact, ornate axe crushing, etc the damage all works out with my math.

My test was against an opponent with 70 resists in every resist, except 75 fire. I did not pot up for the purposes of this test, so that damage window of 42-58 is a constant (screenshot below). I was using a crafted 100% physical damage weapon.

So, you take the damage window of 42 * .3 (going against 70 physical) - my minimum damage should be 12.6 (rounded down). Highest should be 17.4 (rounded down). I should hit anywhere between 12 and 17.
100 test swings, no damage ever rolled higher or lower. Great, math works.
Next - add Consecrate weapon. This image is taken from my buff bar after casting it on this character. Previous publish notes indicate that enemy of one, consecrate weapon, slayers, crushing blow, and all that other extra damage from spells/specials is treated as modifiers (subject to 300% cap in PvM but not PvP).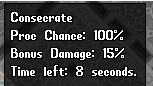 I should be able to take my original damage window of 12.6 + (42*.15*.3) [low end damage * modifier % * .3 because 70 phys). 14.49, same math on the up side comes out to 20.01. Ok, damage range should be 14-20.
Actual damage range after 100 swings: 13-18.
I figured, maybe we are rounding down to the integer value at every level of the equation. Nope, because that would put the range at 13-19. Never saw higher than 18.
Then I said, maybe it's not an actual modifier but damage increase? Nope, because it did move my range up by 1 on the low and high end of actual damage output.
I repeated the test for enemy of one. See below, taken from my buff bar on the character doing the attacking.

Normal math says my damage range should be 16.002 - 22.098 (round down to 16-22). [same math used - 12.6 + (42*.27*.3) and then repeated for the high end.
Actual damage range after 100 swings - 13-18.
Again, I did the math rounding at every level of the formula and that put the range from 15-21. So still not right.
Again - not treated as damage increase because my damage range did in fact move up 1 on both low and high end.
And lastly, when I cast them both to hit my target.
Normal math says damage range should be 17.892 - 24.708 (rounded down to 17-24).
Actual observed damage range: 14-19
Doing the math rounding down at every level shows 16-23.
Again, not damage increase because it bumped my damage range by two on both the low and high end.