Rediscovering Old Places in UO
<!–– 1941 ––>

MacroPlanet
<!–– closing ID=FDP or NOFDP 2001 ––>
Posts: 56
So this took place in 2000 on Napa Valley. Trammel was just introduced through Renaissance, however me and my friend never bought the expansion (at the time) and just stayed in Felucca for quite awhile. All the action was there anyway, as you all know. I had a house just north of the city of Minoc so I spent a lot of my time running to and from the bank of Minoc and to my house. Running into all types of people of course; lots of miners and some PK's that ran around that area. For awhile I told myself that I was going to protect the miners as best as I could, because the mine just outside of Minoc was a hot spot for new miners which naturally brought in a lot of the PK's to grief them. I couldn't really hold my own just because I was new to the game and didn't understand the mechanics that well, but I was dedicated.
Eventually I discovered that you could poison your weapons and to me that was an absolute game changer. Eventually I was able to raise my swordsmanship up high enough to start fending for myself and these helpless miners. I came across a house that was right next to the bridge connecting Minoc to Vesper, right next to the Minoc mountain. It was an improperly placed house on a hill but the coolest thing about this house is that they were selling deadly poison and that's when I realized how much more damage I could do. I believe the person there would also apply the poison to my weapons too, which was nice. For the time that I spend on Napa Valley, that house was my go to for any armor, weapons and deadly poison. It was such a convenient considering it was right next to the area I was trying to fend off PK's and where I lived.
At some point I left OSI (around 2003) and Napa Valley (2008). The shard is not very populated but it stills feels like home to me. After returning to OSI in 2008, I moved on to Chesapeake and eventually Atlantic.
However, just recently I decided to go back to Napa to check things out and to see some old stomping grounds.
To my surprise I discovered this: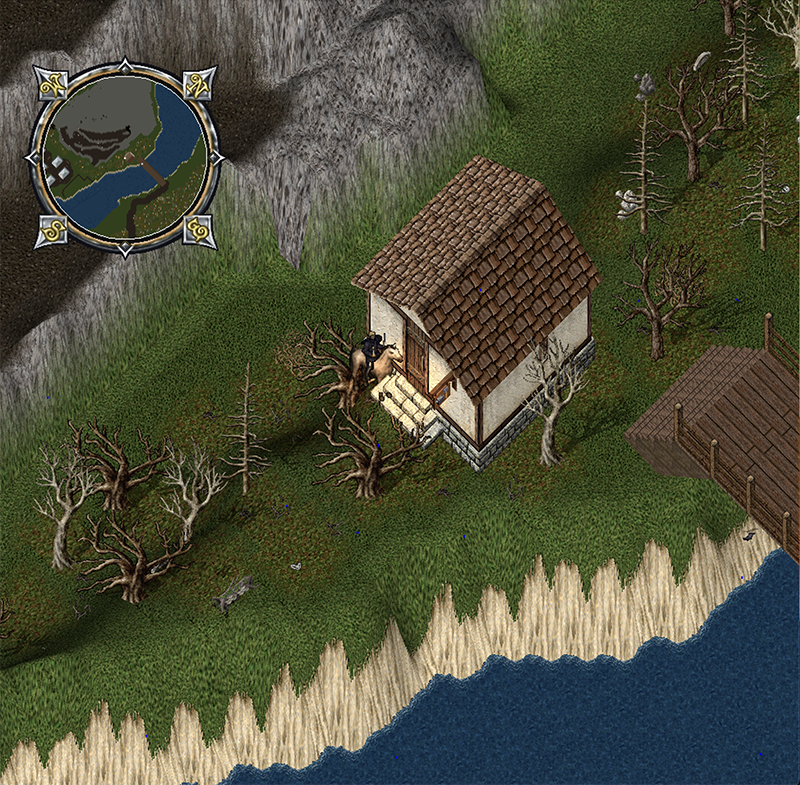 The house that I frequent still stands in 2023. Not sure when it was placed, but to my knowledge it's been there since at least 1999. So many memories rushed back to me. I even found some books in the inside of the house (it's a public house) that are messages from people that play(ed) on Napa dating back from 2007 and 2017. I left a message in there as well dated at 2023.
It just blows my mind that this game--and this house to me--has so much history still packed in it. I love that some places still exist inside of the game that were player controlled. I have no idea if this player still plays anymore (SUMMER of Napa Valley), but i just loved seeing this old house. Improperly placed and loaded with memories.
I'd love to hear some of your stories about rediscovering something years or decades later that still exist within the game. Feel free to share!
Tagged: