Decorating Bits and Bobs
<!–– 1941 ––>

LilyGrace
<!–– closing ID=FDP or NOFDP 2001 ––>
Posts: 705
Been trying to put together a buckboard and a carriage, trying to create what looks like a seat for a driver and a roof on a carriage. Meh...
The Elvin loveseat looks sort of ok for a driver's seat but there's a lot of placing components on lower diagonal tiles and jacking them up to get things aligned properly. Most particularly problematic is the most forward on the screen front "wagon wheel". The only way I've found to make the wheel stand proud of the other components, and not get buried under the seat, is to jack it up from a diagonal lower tile. But in turn this makes it difficult to place items that will cover the bottom of the spinning wheel. And of course, unless you're building out in the open with no floor above, jacked up items will go through the floor.
Other difficult bits are trying to put lanterns on the front of the carriage. I was excited when I placed the most forward lantern. It lined up just right to look like a carriage lantern. But no good on the background one.

And I think the ingots used for a carriage step are a no go. Need to find something else or use nothing at all. I can't suspend my disbelief with the ingots. They just scream ingots to me.
I've been staring at these too long. I can't tell anymore if they look half decent or look too flat or what. Or if that "carriage roof" looks sort of like a carriage roof or if it just looks like a green table stacked on top of another table. Neither of these are where I'd ultimately place them. They're just jammed in where I was working on them.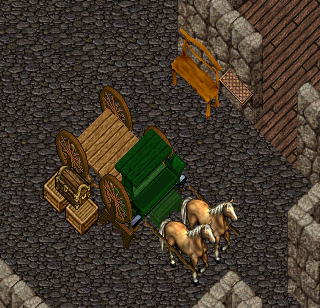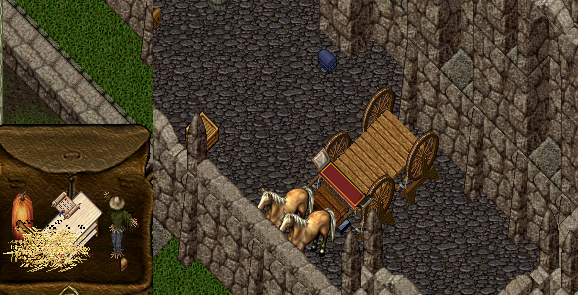 Anyone have any ideas on how to improve? Or other examples of wagons they've built?