Leo2 - $60/plat GOLD SCAMMER making his rounds atm
<!–– 1941 ––>

Raetri
<!–– closing ID=FDP or NOFDP 2001 ––>
Posts: 1
Leo2 advertising a $60/plat and $0.07 per mill with Discord as leouo#7278 has scammed a few people already. You send him the money through Venmo and he complains that he's having issues with getting the money into his bank account then he poofs.
I'm posting this because his latest tirade in chat a few minutes ago included him logging onto two other accounts to "back up Leo2" after I called him a scammer (the account numbers were right next to each other) with a username Maverick and Bone Crusher.
His tirade as Maverick included a huge racist explosion as I was telling him I was posting the screen shots on the forums. If the GM's/Admins have access to IP address info you should see that all three accounts are coming from the same IP address.
For brevity I'm just posting the beginning and end of the discord conversation so you don't have to read through all the fluff. I'm not going to post his racist tirade on here.
Anyways the screen shots....
Log screen shot of his advertisement and discord name...

Discord name...

Him (jeff) charging me....

Start of the conversation in discord...
And the end...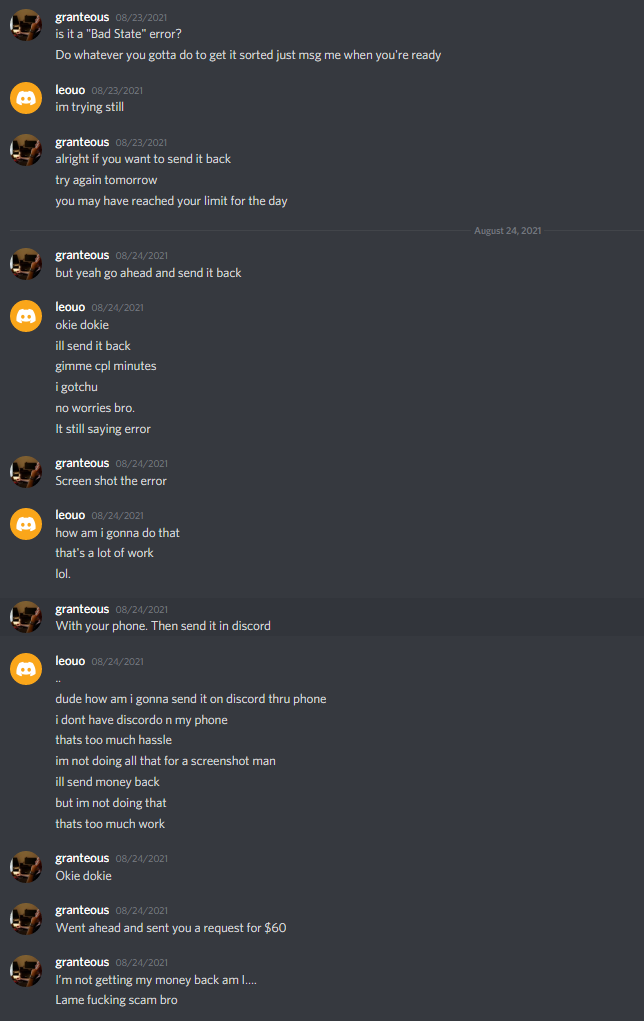 His other two accounts.....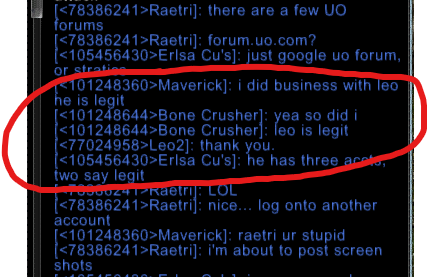 Tagged:
This discussion has been closed.