Does White Tiger Form cancel out Parry?
<!–– 1941 ––>

Pawain
<!–– closing ID=FDP or NOFDP 2001 ––>
Posts: 6,579
Here are my skills: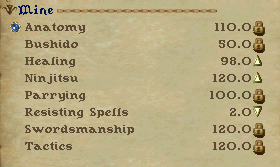 I am swordsman using a 2 hand weapon double axe.
When I am not in form I get around 17% Last Parry Chance according to my weapon.
When I am in white tiger form it is always 5%. It was 5% with 80 parry and no Bushido. I added the Bushido later to try to get more.
17ish is the theoretical value that I get when calculating.
I am confused.
Thanks for any help.
Issue solved by post below!