Schedule of Public Events March 2020
<!–– 1941 ––>

Magichands
<!–– closing ID=FDP or NOFDP 2001 ––>
Posts: 139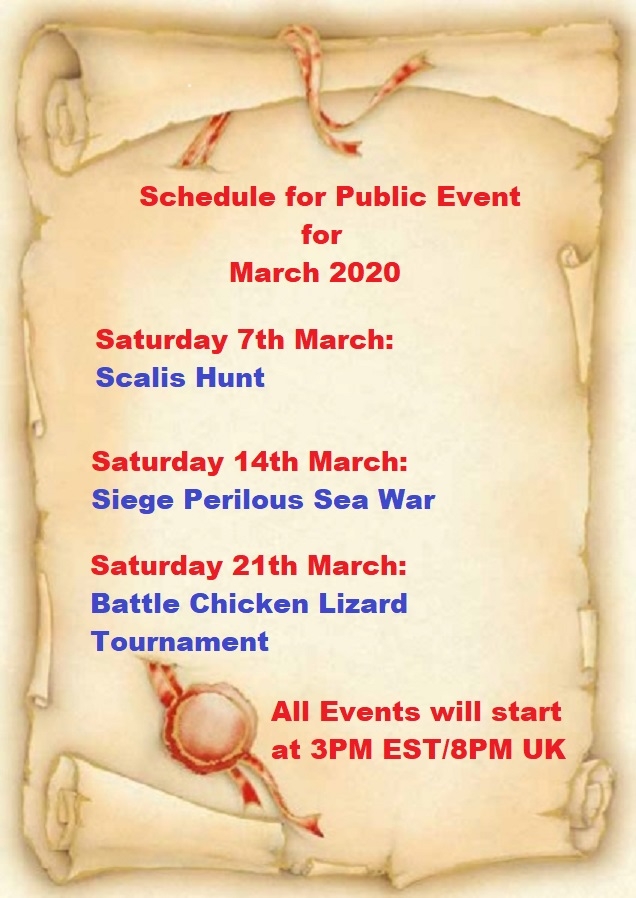 Greetings Citizens of Siege Perilous ! This is the list of public events that we'll held during the month of March !
At the beginning of each week i will post all informations about the event for that week so there will be time for all to get ready if they want join !
Some general informations:
All events are public and so being Siege don't bring with you anything that you cannot afford to lose (anyway we want finish these events, so we'll try to get some precautions)
For Scalis you don't need really High Seas Expansion but, having it, will help.
For the Sea War you will NEED High Seas Expansion
For the Battle Chicken Lizard Tournament you will need that pet. The event will be in 20 days so there is plenty of time to get one, bound it and train ! So better start early with it ! (if you need info how to get them ask without problems)
As usually all are invited and ,being just public events for having fun all together, please keep personal wars away for those couple of hours.
I hope to see many of you at these events !!
Hurray for Siege !!