EC 'BOOK' fix... not.
<!–– 1941 ––>

MissE
<!–– closing ID=FDP or NOFDP 2001 ––>
Posts: 776
Hi I asked about a fix for the fact that you cannot read ec books and cc books the same, nor can you cut and paste into the ec books as you could always do the cc books back about 10 yrs ago when SA first came out. I then asked about a fix for it often over the years until at the march m&g on oceania I asked again and Mesanna said the fix would come in pub 105, which it didn't so i was surprised to see it on this latest publish notes gone to Origin etc.

So I dashed to the TC to check it out as FINALLY I would be able to use the books the same. So I thought.

FAIL.
Not sure what the 'fix' was but you still cannot copy and paste into an EC book. When you are trying to do a player run event or something, rules or instructions, you usually type into a text or word doc then copy to an in game book, it works fine in cc but always bugged out in the EC and wouldn't copy so you would need to type it all manually page by page, so basically this is a fail. It is still a fail as EC books will still not copy anything after the first page.

This is a sample of how the same text 'copies' and 'pastes' into an EC/CC book. EC is the top, CC is the bottom.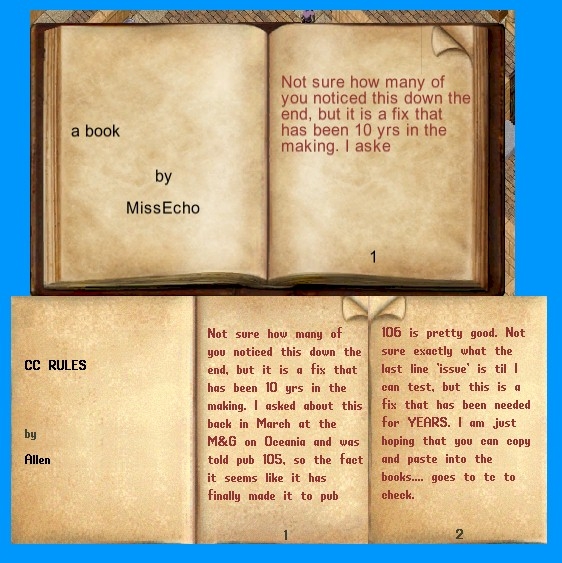 AS you can see, yet again the text does NOT copy into an EC book other than the first few lines. The same text was copied by Allen into the CC and it copied the whole lot.
You should be able to copy enough text to fill a 20 page book in ONE paste.

Having waited well over ten years for a fix this is a total disappointment.

Any chance of this ever getting fixed? I used to be able to copy text into a book then just target the next book and the next etc to produce the same book text across 20 or more books, just by hitting cntrl V to paste. YOu cannot expect people to type mini pages manually to fill a book in the EC.
Cheers MissE
For more info about Angelwood Warehouse Events go to the
A.W.E Forum