[Player Event] Huntsman Challenge of Nidaros - Ends May 31st
<!–– 1941 ––>

Khyro
<!–– closing ID=FDP or NOFDP 2001 ––>
Posts: 226
Greetings Huntsman of Chesapeake. I have been asked by Ranger Tarisber Hawkeye from the player town of Nidaros to pass along the following information!
We recently had an incident where a trade caravan full of Honey and Fish from Vesper was ambushed on its way to Skara Brae by a family of Grizzly Bears living in the woods of Nidaros! We need your help to keep the roads and our caravans safe!
For the remainder of May, anyone that helps to control the Grizzly Bear population will receive a reward. The largest Grizzly Bear slain will get special recognition and a choice between great prizes! If the largest Grizzly Bear slain is from "A Forest Outside Skara Brae", a bonus reward will be added (as this is where the attack took place)!
To participate, obtain a Hunter's Permit from the Thurston the Huntmaster located in the Ranger's Guild outside the City of Skara Brae. Click on Thurston and choose the menu option for "Get Hunting Permit". Permits cost 5,000 gold pieces each, which will be deducted directly from your account balance.
Location of the Skara Brae Ranger's Guild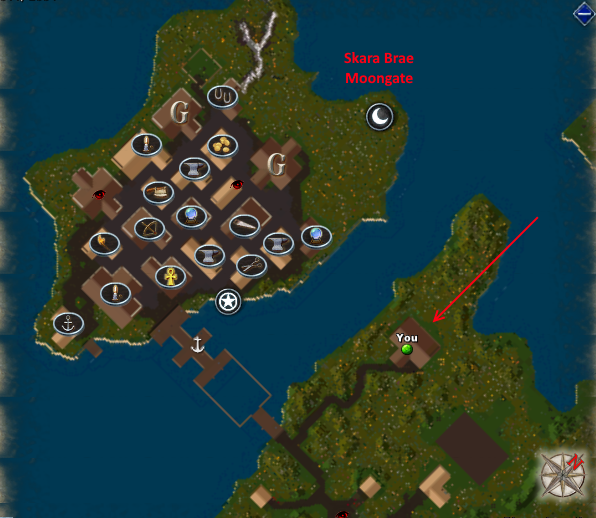 For your convenience, runes to the Ranger's guild can be found at the following locations:
Both CAH stable houses on New Magincia
Open Air Market on New Magincia
Locations to find runes to the Ranger's Guild outside Skara Brae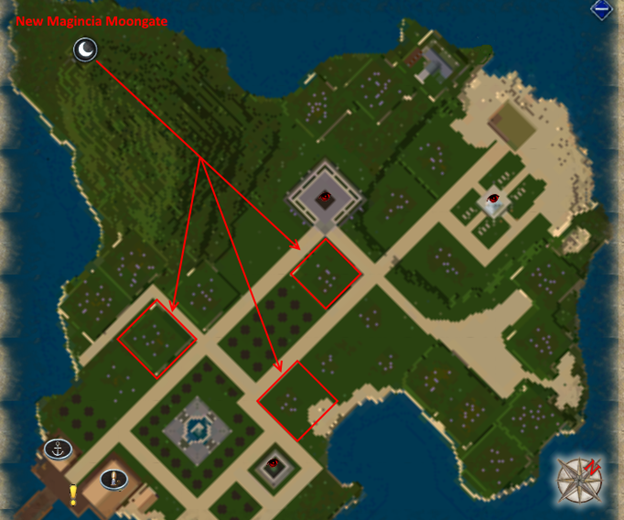 After acquiring your Hunting Permit(s), head out into the woods and locate a Grizzly Bear. Once you have successfully slain the Grizzly Bear, double-click a Hunting Permit in your backpack, then target the corpse of the Grizzly Bear to record the kill. You can review the stats of your kill by mousing over the permit.
If you are happy with your kill, return your permit to the mailbox at either of the CAH stable houses on New Magincia, you may enter more than once!
Note:
All permits must be dated in May of 2018 to be eligible.
Locations to turn-in completed hunting permits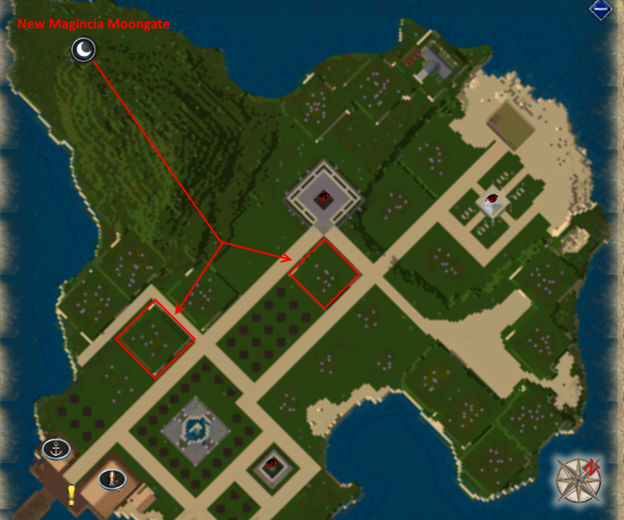 1st Place

The winner will get their animal stuffed, mounted, and turned into a trophy

If there is a tie, the hunter who returned the permit with the earlier kill date will be the winner. Should both hunters have the same date as well, the cash prize will be split between the winners.

A Huntmaster's Champion Reward Title
And their choice of ONE the following:

Package one: 15 Million gold pieces
Package two: Set of 110/115 Animal Taming Scrolls & A Soulstone Fragment Token

115 Wrestling
110 Tactics
110 Anatomy
110 Resisting Spells
110 Parry
110 Focus
110 Meditation
Choice of: 120 Chivalry, Ninjitsu, Bushido or Spirit Speak

Package three: A full set of Elemental Double-Axes, a set of Super Slayer Bladed Staffs, and a Soulstone Fragment Token
Package four: Soulstone Fragment, +25 Stat scroll and 5 million gold.
Bonus:
Should the winning permit be from "A Forest Outside Skara Brae", the winner will receive an additional
5 Million Gold
, plus their chosen reward package.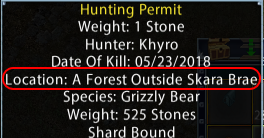 2nd Place

Choice of 5 million gold pieces or a Soulstone Fragment Token
Trophy commemorating your near victory

3rd Place

3 million gold pieces
Trophy commemorating your near victory
There will also be special recognition for the hunter who brings us the smallest Grizzly Bear!
(other non-announced awards may be given out as well!)
Gather your gear, sharpen your weapons, and good luck everyone!