Spring Fashion Show : 11th May @ 5 pm EST
<!–– 1941 ––>

EM Kincaid
<!–– closing ID=FDP or NOFDP 2001 ––>
Posts: 147
Event Moderator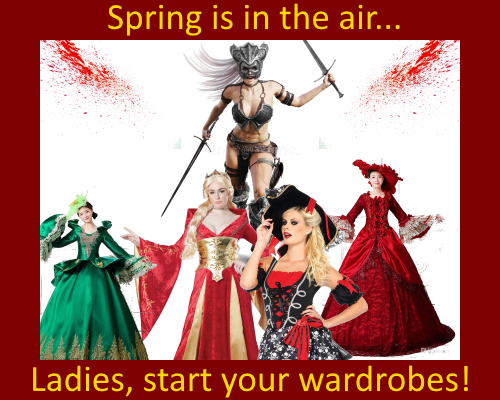 Ladies of Siege, I, King Blackthorn, have decreed that you have been neglected for far too long!
I would see an end to this neglect, and see you recognised for the able minded and bodied individuals you are! No more will people say "Her? She couldn't beat anyone at PvP!" or "What? A woman can use a forge? Unlikely."
I call upon you now to demonstrate your skill, you fortitude, your cunning, and your guile! Put all your strength and effort into assembling an outfit that will leave half the men (and other ladies!) of Siege in stunned silence, and the other half lining up to pay for your skills!
On the 11th, when the bell strikes 5 in the eventide, you are invited to display your finest armour, your best battle gear, your most socially uplifting evening wear, and more besides!
There will be three categories :
Best outfit of all
Dressed to kill
The Spirit of Siege – I leave you to decide what this means to you, specifically.
I also invite those who do not wish to show off their wardrobe – or their war wares, as the case may be – to apply to judge this contest.
If you would like to be a judge, please send an email to kincaidSiege@gmail.com stating who you are, and why you would like to be a judge.
The winning outfits (or a replica thereof) will be displayed in the Hall of Champions for all to see and marvel at!
Tagged: