Celebrate the Moonglow Royal Zoo during National Zookeeper's Week and Win 25 Million Gold!
<!–– 1941 ––>

TXEggplant
<!–– closing ID=FDP or NOFDP 2001 ––>
Posts: 147
The Moonglow Royal Zoo is celebrating National Zookeeper's Week! During this week, July 18th through July 24th, Moonglow will focus on restocking our zoo with glorious animals from around the realm!
During that time, I will be at the zoo's entrance (by the donation box) every night from 6p-7p EDT, accepting animals and gold donations towards the rebuilding of the zoo. Of course, donations are ALWAYS welcome but will not count towards the contest I'm about to tell you about!
At the end of the week, the following prizes will be awarded:
Most animals: 25 Million Gold and a choice of the following Contribution statues from the Community Collection Rewards: Quagmire, Bake Kitsune, Wolf, Changeling, Reptalon, Polar Bear, Snake
Most points: Item(s) up to 500 Sovereigns in the UO store and the choice of one of the following Interactive statues from the Community Collection Rewards: Silver Steed, Quagmire, Bake Kitsune, Dire Wolf, Crane, Polar Bear, Changeling, Reptalon (or any of the Community Collection Reward Statues listed above)
Tamers of all skills are welcome to donate to the Zoo! If you have someone taming for you and handing off the animal to you to donate, that's great too! If you need a gate from your taming area, please let me know so I can mark a rune and gate you directly to the donation box!
The zoo is currently at Tier 4. The highest I have seen is Tier 11.
Below are the points assigned by UO and gold is one point per 15gp.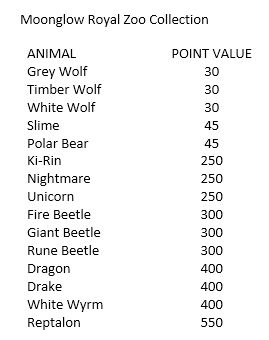 You can find additional information about the Community Collection rewards
here
.
See you at the Zoo!
Maith Ceol, Chesapeake
Governor of Moonglow

Discord: txeggplant
maithceol@gmail.com