Dungeon Destard
<!–– 1941 ––>

Pawain
<!–– closing ID=FDP or NOFDP 2001 ––>
Posts: 7,121
Since the next dynamic dungeon may be here.
Treasures of Fey Wrath
https://uo.com/wiki/ultima-online-wiki/world/dungeons/destard/
https://www.uoguide.com/Destard
You can get to the tram entry by "Saying Dungeon Destard" at a corrupted portal.
You can get to the fel entry by Saying "Fel Dungeon Destard" at a corrupted portal.
You should mark runes before the event begins.
You can mark runes inside the Tram Dungeon and outside the Fel Dungeon.
The Dungeon has 3 floors.
The Entry level is the largest. It has a shallow pit of Dragon Kin with serpents around south and west rims. An area to the East is has the area where Crimson and Platinum Drakes spawn (PC D) These are the 100% Physical damage versions. Past the Drakes is a Lake where Water Elementals spawn (W E).
You have to climb to the rim and follow it to the spawn area. Beware the Acid spouts. In Tram there are the lesser Dragon Kin. In Fel that is empty until the Rikktor Spawn has been started.
SW from the entry takes you an area with more serpents and lesser Dragon Kin.
At the end of the path you find the entry to Level Two.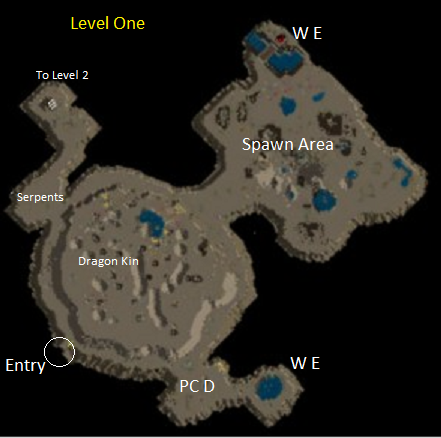 Level Two is much smaller. It has Wyverns and some Shadow Wyrms.
Near the Level 2 Entry is the exit to Level 3.
Level 3 is smaller but this is where you find the Ancient Wyrm.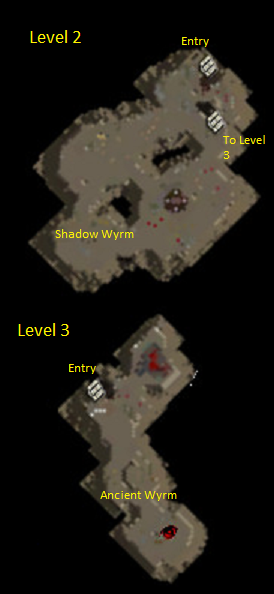 The Fel version has sparkles and the entry to The fel Dragon Turtle spawn.
Do not go in here. You can not go back. You have to find sparkles that take you to fel Papau.