UO Loot Filter
<!–– 1941 ––>

Zolt
<!–– closing ID=FDP or NOFDP 2001 ––>
Posts: 6
I recently came back to UO after being away for six or seven years. During that time I played a game called Path of Exile which had an awesome tool that allowed me to programmatically change the font color and size of dropped loot. You also have the ability to filter out things that are below certain thresholds. It helped me to identify which items are worth keeping etc.
My biggest problem when playing UO is I simply do not know what is worth keeping and what is worth unraveling. No doubt I have unraveled some really good items because I just didn't know better.

I spend a lot of my time digging up level 5 and 6 treasure maps and fishing up SOSs so I have no shortage of items to sift through.

I am in the process of using an Excel spreadsheet to help me identify items I should consider keeping.
Here is my process:

1) I put all my weapons and armor in a bag that I get from the treasure map.

2) In UO Assist, I make use of the Vendor Bag feature where I can export the contents of the bag to the clipboard.

3) I past the clipboard into Excel.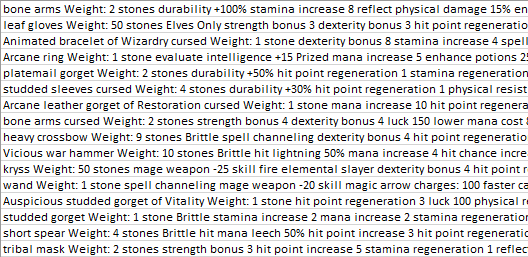 4) I have a second sheet in Excel that helps me summarize the loot.


I am sure most of you know the maximum % of 'Swing Speed Increase' for instance. I don't. I don't know if 10% is good or 100% is good etc. I am starting to learn.Additionally, I want to put most of the limits in Excel. So if an items has the potential to be 50% and the item I have is at 50%, it is worth reviewing.
Better yet, items that have certain related characteristics and at a certain threshold are certainly worth reviewing. IE, total resists + luck + lower reagent cost.

So now for the questions…

Are there are any rules you could think of right away that would help me in my journey? IE, 'if the item has 75 resists, 100 luck and 10% lower mana cost' it would be worth reviewing. Or, 'look for jewelry that has at least these three characteristics x% SDI, y+ INT and z Luck'.

Thanks for any insight and direction. I've read a whole lot of articles since my return but probably missed some good discussions. Feel free to include links to any previous discussions that help you.

PS: This Excel document does not have macros, it is all built in functions. I would have no problem sharing my work in progress if anybody else would find my work in progress beneficial.

PSS: Some of you fishermen out there may know me out there. I created the excel fishing spreadsheet about 10 years ago that helps converted SOS coordinates to the x,y format for easy map import.
Cheers!
-Zolt

Tagged: