An easy to use build for Wildfire Paragons
<!–– 1941 ––>

Pawain
<!–– closing ID=FDP or NOFDP 2001 ––>
Posts: 8,475
We have a guy on LS running around and can solo all the paras with this build. You can drag paras onto him and he still kills them.
I have been trying it, I am not good enough to solo a Balron or Lich Lord but I can solo the others.
So that's the same as what I can do with my other warriors solo. We happened to have all the different paragons on LS last night so I got lots of practice. There were 6 at the second floor entry so everyone was gone and I had the floor to myself.
It is based on White Tiger form. I used my Swords Sampire and converted him to this.
It just needs the basic warrior skills and Ninja for the form. It is not that point heavy.
White Tiger Form
Active spell in Ninjitsu Mastery.
the ninja transforms into a white tiger, providing the ninja with a buff to defense chance increase, a chance to evade attacks based on mastery level, and an applied bleed attack on targets based on ninjitsu skill and best weapon skill.

I have Mastery III and 120 Weapon and Ninja skill. So I get +5 to DCI cap and +20 DCI.
While in White Tiger form:
You can use no spells from any other spell category including Chivalry or Bushido.
You can not use any weapon specials.
Dismount knocks you out of the form.
Since I am not using hiding or stealth, The only Ninja spell you can use is Mirror Image.
Mirror Image is the key.
You can use virtues. Like Honor etc.
White Tiger form moves at mount speed.
Mirror image casts on the run and does not stop you swinging.
The only way to heal is with bandages.
Why is this easy? You only have 3 things you can do in this form. Honor target, Make mirror images, Heal. If you do not have Bushido, then there is no need to honor. So, just 2 things to do.
My template: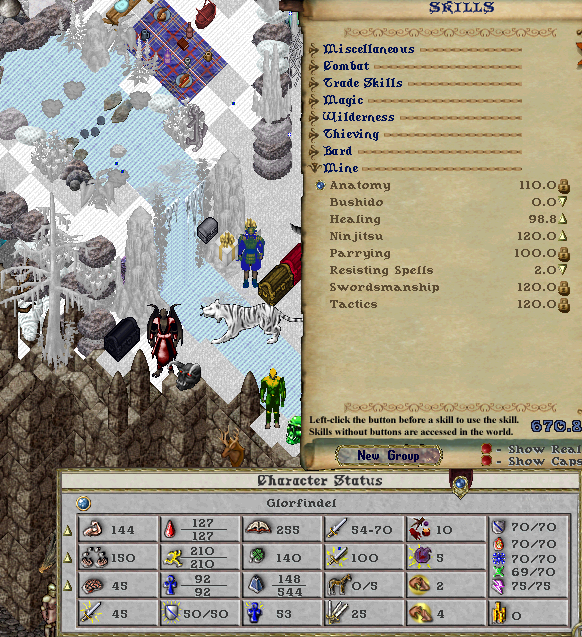 Those are all real skill. You just need the Ninja at 120 Real. This is the base template to use this
Template and method. I will have 150 Str, I have extra Dex I can drop. Also this does not use a lot of mana.
I have 50 more points I can use. You can have more points with jewels.
From this basic template setup you can choose the way you want to get your parry chance.
I chose to use a shield and go with the old basic parry chance formula.
I am going to get healing to 100 then put on resist. I'm tired of waiting for paralyze to wear off.
You can use the extra points to add Bushido and use a two handed weapon so you can use Honor for more damage.
You may need more FC and FCR than I have.
Technique:
You just go up to the Paragon and start smacking it. As soon as you start hitting you cast Mirror Image over and over. So you just stand there smacking and pressing mirror image and bandage as needed.
This is a defensive template. Mirror image diverts hits to those and they die. You have your Parry, DCI, and there is built in evade with the form.
You choose the weapon that does the most damage to the target. You can not use specials so you want to be at Max SSI on a high damage weapon. I am using a Longsword because I could find them on VS on Atlantic, I brought it back and put the things I need on it. I do not need Mana Leech.
@popps&nbsp
; this is an easy to make template. It will kill all the Paragons once you learn how to use it.
I teamed this with my tamer and we killed a para Balron in 2 minutes or less. Tamer just left his Cu Sidhe on it with consume running.
The Player on LS uses a 100% energy Undead slayer diamond mace. So he is killing Para Balrons without a slayer. He uses solders medallion Tali.
This should be able to do any Spawn Boss. You could do a spawn without tiger form so you can use WW then go into tiger form for the Boss. Maybe use wraith form to keep your speed during the spawn.
Focus on what you can do, not what you can't.