Treasures of WildFire Reward ideas
<!–– 1941 ––>

keven2002
<!–– closing ID=FDP or NOFDP 2001 ––>
Posts: 1,982
@Kyronix
:
It might be a little late to make suggestions on the rewards here but if it's not in the list; could we get a talisman from this event that a bit more helpful than the Ice tali? I'd request it be like the conjurer's trinkey where it has: 1str / 20DI / 10HCI / Flame slayer.
It would be something not OP but useful. Using the winter locket was a detriment to every warrior given that every single talisman primarily used has at least damage or HCI on it.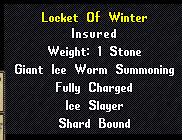 If others have some ideas about rewards they'd like to see list them here. If we missed the boat for June maybe it can go in the next treasures of event.