EM Events for August 2020
<!–– 1941 ––>

EM Kincaid
<!–– closing ID=FDP or NOFDP 2001 ––>
Posts: 133
Event Moderator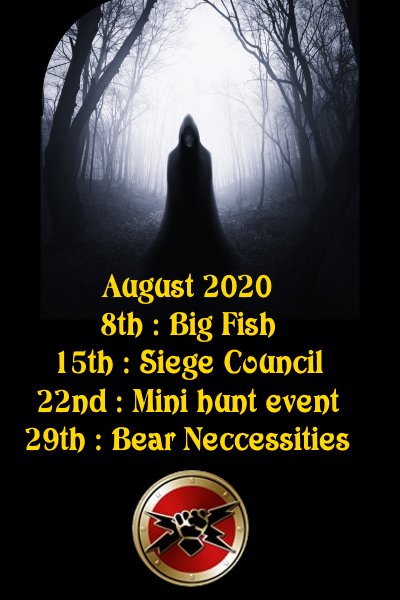 8th : It's been a while, and our fishermen are feeling neglected. I'm feeling exhausted due to RL nonsense. So, let us combine the two, and have a fishing contest. Whoever drops the biggest fish into my mailbox at the EM Hall before the end of the month gets a special mention at the reward hall. Just so our PKs don't feel left out, whoever posts the most screenshots of kills on the water will also get a special mention at the reward hall - probably "Predator of the month" or something like that!
Please note : I am actually away from the 5th to the 8th, hunting for that much needed R&R.
15th : The usual council meeting, complete with unwanted monsters.
22nd : What to call this.... how about "experiment time"? As you probably heard, I have some new toys... come and help me try out a new champ spawn! NOTE: No rewards other than the normal stuff that monsters drop, but it should be fun all the same!
29th : The bear necessities. Yes, you all get to run around the jungle in red loincloths singing to the local wildlife! Not your scene? Oh, ok - it would have been fun, but I'll give you something to fight instead. Happy now? Great.