Overweight Bags of Sending
<!–– 1941 ––>

JenniferMarie
<!–– closing ID=FDP or NOFDP 2001 ––>
Posts: 153
— I've had a few guild mates discuss how the bags of sending in their backpacks weigh enormous amounts - but if they remove them from their backpacks (and say, place them in their bank boxes), then the bags go back to normal weights of 2 stones.
Take them out of the bank and put them back in their backpacks? Back to enormous weights. Could the devs please look into this?
Today, a guild mate has a bag that weighed 406 stones.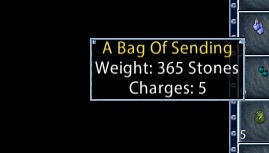 This screenshot is from Saturday evening around 7:18pm EST.
@Bleak
@Kyronix
@Mesanna
@Mesanna1
~ Jennifer-Marie

"Insanity is a naturally occurring mutation; humanity has just managed to perfect it." -- JMK [[me]]