ORDOS OCEANICUS BOUNTY: When, what to my wondering eyes should appear....
<!–– 1941 ––>

EM Tycho
<!–– closing ID=FDP or NOFDP 2001 ––>
Posts: 78
Event Moderator
But a minion of Krampus, and death followed near!
Attention Ordos Members!
This evening just as I made my last rounds through Castle Blackthorn, I discovered a beast in the Hall. He was most obdurate and it took great effort to drive him outside. With the assistance of Tycho and the Huntmaster I was able magically isolate the beast, and four of his brethren discovered later, to Fire Island.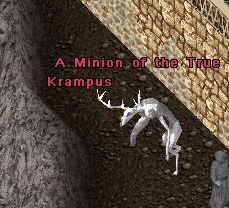 All holiday leave has been revoked.Put down your drinks and douse the fire, the Ordos must move to protect the Realm!
Any person posting here a detail of their encounter with these 'Minions of the True Krampus' AND including an image of themselves with the corpse of one of the beasts will be awarded a point towards rank advancement.
Make haste!
-- Inquisitor Pierce, Commander, Ordos Oceanicus
(There are a total of FIVE 'A Minion of the True Krampus' on the island, with at least one now roaming the Fire Temple. These beasts are EXCEPTIONALLY strong, so work together! Any person attempting to earn rank advancement points must be clearly named in the image, though multiple persons can use the corpse of a beast together as longer as they are all clearly named.
Happy holidays!
-- EM Tycho)